TAKE YOUR DANCE PARTY TO THE NEXT LEVEL. Hire The wondrous crowd-surfing, luminous jellyfish bloom For your next FESTIVAL.
Professionally Staged Jellyfish Bloom
Our Professionally Staged Jellyfish Bloom packages include both a professional, on-site Bloom Leader for flawless communication through to execution and exclusive access to the OMFG Jellyfish, our largest, super-bright, most delightful performance jellyfish.
PACKAGES & PRICING
10 OMFG Jellyfish Bloom Participatory
10 OMFG Jellyfish
Two Bloom Leaders
Four hours of performance
You provide 10 performers
From $2500.00 USD
10 OMFG Jellyfish Bloom
Complete
10 OMFG Jellyfish
Two Bloom Leaders
Four hours of performance
10 professional OMFG Jellyfish performers
From $4500.00 USD
client accolades
Treasure Island Music Festival
The OMFG Jellyfish performed while Beck, Thom Yorke, Phantogram, Explosions in the Sky and many more rocked the ghostly galleon themed venue for 25,000 enthusiastic music fans. Thanks again to Treasure Island Music Festival producer Stacy Horne.
California Academy of Sciences
Every urban jellyfish's favorite museum, the California Academy of Sciences invited the Maha Jellyfish bloom to undulate at NightLife, their weekly, adults-only, night-time frolic of "music, creatures and cocktails."
Burning Man
Awarded an Art Honorarium for Burning Man 2011, Billion Jelly Bloom designed and produced 25 new OMFG Jellyfish. We performed and welcomed others to perform the OMFGs, swarming art cars and undulating through playa sculptures.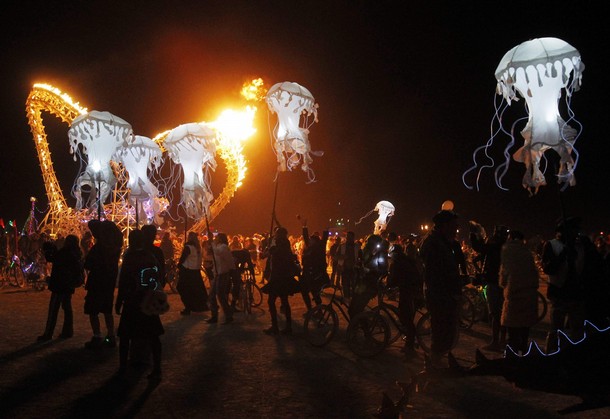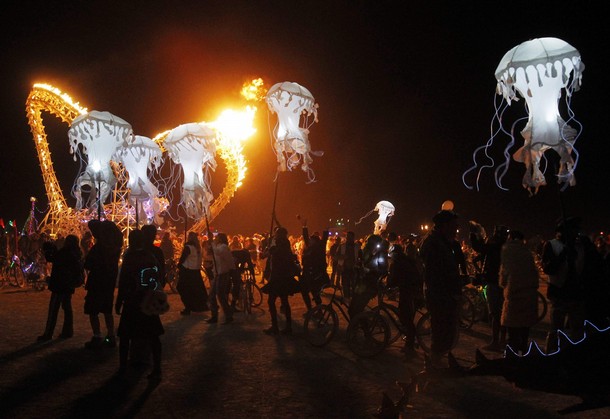 Seriously Everybody Loves the Jellyfish
Bloom Leader Marina
North America East Coast / Europe /
Central & South America
Based in New York City, Marina has led more than 20 blooms since 2011. Marina's resourceful grace under pressure is legendary, leading spectacular performances at large outdoor events and impromptu flashblooms. She runs business operations of a cloud services company.
Bloom Leader Ethan
North America West Coast / Canada
Leading more than 10 blooms since 2013, Ethan's enthusiastic undulation, natural leadership and thorough client care are the most common unprompted reviews from our clients. Ethan is materials engineer specializing in failure analysis. He lives in San Francisco and collects periodic table elements.
Bloom Leader Carly
North America West Coast / Canada
Carly's tenacity and enthusiasm for all things invertebrate is as boundless as it is unassailable. She's bloomed private events and large-scale festivals up and down the West Coast. She operates out of San Francisco where she works for a non-profit legal services organization.
Bloom Leader Toni
North America West Coast and South
Toni has deep expertise and experience with mega-puppet creation and performance. She's a charismatic natural leader with an expansive heart. She's a director at children's museum in Berkeley.
A Social Mediasplosive Experience